Cunt, Cock and Feet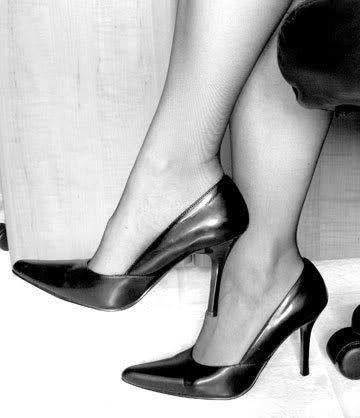 Discarding my blazer by the door, I walk around my office. Sun streams in the window giving everything a warm glow. I look out over the city. It seems so peaceful this time of morning. My finger wanders over my red lips as I think about my tasks for the day. I drop one stiletto and rub a stockinged foot against my calf, deep in thought.
Knocking at the door breaks me of my trance. I turn and see you enter. You look nervous. You always do. Your hands play with your tie as you wait for me. I turn and walk to my desk, flipping on the computer and gathering my papers.
"Sit."
You jump, startled I've spoken and move quickly to your spot. Kneeling down on the floor beside me, you ease yourself down onto the floor. I cross one leg over the other and let my shoe dangle from my toes. I hear you suck in your breath, anticipating what the morning may hold. I glance down and see your arousal already evident through your pants. I wonder what my colleagues would think if they knew you were in here. They knew I hand picked you for the job, that maybe I showed favoritism offering it to you. But I'm sure they wouldn't suspect this. I figured you out 10 minutes into the interview, first thinking you had notions of running your hands up my legs.
I answer a few pressing emails and clear off a few papers from my desk. I can see you out of the corner of my eye, anxiously waiting for me. You know when I clear time like this that I'm looking forward to our time together. Swiveling around on my chair, I lean back and smile seductively at you. Letting my shoe drop to the floor, I slide my foot slowly up my own leg, then back down. Teasing you with a brief glimpse to the top of my stockings. My toes caress over my ankle and down over the top of my other stiletto. I let them drag over the floor slightly and then back up my calf.
I watch you lick your lips as your eyes watch my movements. Your hands rest on the floor and flex against the carpet. Drifting my foot back down my leg, I hold it out for you and give you a slight nod. Eagerly, hands move to my foot, caressing it, massaging it. I groan softly and let my head rest back against the chair. Deft fingers move over my foot, moving over my toes, my arch, spreading the warmth of their touch. I can feel your hot breath against my stockings and relish in the feeling of your wet lips against my ankle. Your body shifts, your lips work their way up my calf. Hot soft lips kissing slowly over me.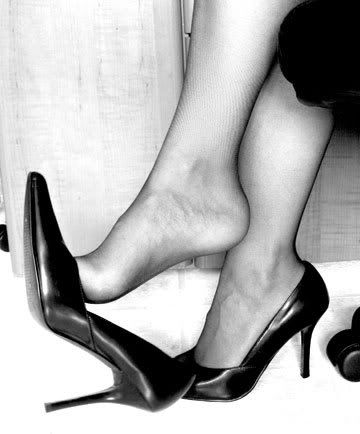 I let my other foot slip out of my shoe and slide up over your thigh. I can feel the tense muscles under my toes as I glide against you. Letting the silky fabric slither over the fabric of your suit, my toes find the heat between your thighs. I feel you moan against my leg and I move my foot up further, slinking along your length. You're hard and incredibly erect inside your pants. My foot rubs softly against you, caressing your throbbing cock through your pants. I know how much you want to strip right there, but you need to wait.
Your lips tremble against my leg as my foot brushes over you. You want me, need me and your hands gently spread my legs. Your tongue moves over the top of my stocking, caressing the bare skin where they end. I gasp and help you push my skirt up. My bare cunt exposed, waiting for you. Groaning again, your lips move up the remainder of my thigh, breathing hotly against me. I feel a hand moving back down my leg and grasping my free foot as my other continues to rub you thorough your pants. Your hips rub against me, heightening the sensations.
Then your tongue finds me. Hot and wet against my clit, it circles around it, tasting me. My thighs part wider and I feel your tongue delving into my wetness. I moan softly, pulling your head to me. Your tongue swirls over me again, fucking me, then sucking on my hard little clit. Over and around, filling me with desire, needing you to make me cum. I won't last like this. My legs tremble as your tongue flicks over me again, relentless, moving in rhythm with your hips against my foot. I feel the heat building and I wrap my fingers in your hair, drawing you closer, rubbing my cunt against your lips, your face. I can feel my juices flowing over you as my cunt starts to pulse. God, don't stop. I feel you groan into my clit, a warm vibration of your voice against me. Suddenly I feel your fingers against me, sliding deep into my slick cunt. It's what I needed. It send me over the edge. My back arches violently and I can feel myself cumming hard against you. My cunt clenching around your fingers, milking them as my body convulses against you. I feel you groan again, relishing in making me cum.
Breathing heavily, I bring my leg up and push your back with my foot against your chest. Such desire in your eyes, you face wet with my juices. I lean over in my chair and take your hands in mine. I place them firmly on the floor and you know I'm in charge. I release them, trailing my fingers up your arms and down over your chest. Your tie is askew and your jacket disheveled. I move down further and undo your pants, sliding the zipper down slowly. Your swollen cock springs free as I pull your boxers down over you. I lean back and look at you again. You, the sophisticated business man in your expensive suit, sitting before me with your cock standing up in front of you, your hair tousled, your clothes a wreck. Desire, lust, hunger showing on your face.
I let my feet move back up your thighs, back up to your waiting cock. Finally, the silky fabric of my stockings make contact with your hot skin. You stifle a cry as I move them over you. Soft, gentle motions, sliding easily. I take your cock between my feet and begin to rub you, slowly, up and down, masturbating your cock with my feet. Your pre-cum oozing from the head of your cock, making my stockings wet and slippery. I rub harder against you and feel your hips thrust up, wanting to feel it harder. I hold you tighter, letting you fuck my feet with your cock. Over and over your hot throbbing cock moves against them, sliding up and down, wanting so much to cum, wanting so much to shoot your hot spunk all over my feet, all over my stockings. I move them against you, tightening and releasing with each thrust of your hips. My stockings are so slick now from your juices, soft, warm and wet. It's too much for you. I can feel your cum surging through you, your cock swelling as you get ready to cum. Your head falls back and your hands grab my feet, pressing them hard against your cock. Suddenly warm thick jets of cum surge from your cock, falling over my feet. Over and over, you thrust hard, more cum spurting from you each time, falling hotly against my stockings. You moan and press my feet harder against you, feeling the pulsing of aftershocks moving through your cock. You lean against me for a long moment, breathing heavily, trying to get your bearings.
"Lick me"
"Oh god," you mutter softly and you slowly lean back against your heels. Taking my foot in your hands, you bring it up to your mouth. Your tongue moves over my stockings, lapping up your own cum, cleaning my feet of our passion and lust. You take your time licking me, enjoying it as much as I do. Your hands reach around for my shoes and you gently place them back on my feet. Then helping me pull my skirt back down, you stand and fix your own clothing. A small spot of cum shows on the front of your pants but I doubt anyone will notice. If they do, I doubt they'll say anything. They know you're mine. I smile sweetly and hand you a pile of folders, sending you on your way to finish out the day, leaving you wondering when I'll call you to my office again.
(and yes, these are authentic DLG feet pics taken just for you...)