The Whole Celebration!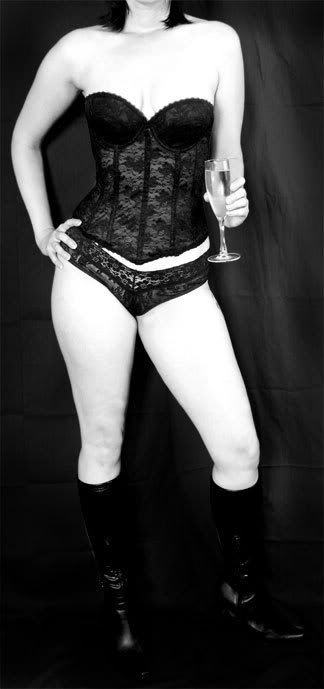 By request of some readers who did not have access to software to assemble the photo parts, I'm posting the whole celebration together as one complete post including the photo. Enjoy!
Won't you come celebrate with me? I've been waiting for you. The champagne is already chilling... won't you have a glass? Come, join me on the sofa. Here, sit here, next to me. I've been waiting for this moment, our time alone together. I've already been touching myself in anticipation. I'm already wet for you. The mere thought of having you here had me so aroused. I've wanted you for so long. Do you have any idea how much?
Please, there's no need to be shy with me... kiss me, please. I've waited to taste your lips. I've dreamed about tasting your lips. I've wanted you for so very long. Lean over and kiss me, softly, please. You're everything I imagined. Your lips so sweet, your tongue even sweeter. I could stay like this for hours. Such passion in your touch. Draw me nearer to you, please. Wrap your arms around me and kiss me deeper. Kiss me passionately. I need to feel you against me. I need to feel your warmth. I want to feel your arms holding me close to you as our mouths meet in a heated embrace. I need to feel your fingers wind though my hair and make me melt into you.
The world falls away from me. It's just you and me, your body with mine, your tongue swirling over mine, your lips pressed against mine. I have you now as I've always wanted you...
Now that I have you, how do you want me? Slow and sensual or would you rather have it rough? Maybe we should just see where things lead? Ah, I think that may be the better route. Give me your hands. Feel me. Feel how much my body wants you, feel how much I desire you, feel my heat. Your touch is amazing. Oh yes, run your hands over my breasts. I love that feeling. Listen to me gasp as your fingertips find my nipples. They're so hard, so aroused. Every little brush of your fingers makes me pulse between my thighs. Your lips are making me tremble. Your mouth is so eager against my neck. The anticipation of your tongue is driving me wild.
You're so naughty teasing me like this, lips and tongue moving so achingly slow. Don't you know how much I want you? My fingers wrap around your arms, willing you to take me further. Oh. Your tongue has found my collarbone. Bite me there. Let my skin be grazed by your teeth. Let me feel how much you want me. Yes. I can't help but let my head fall back, arching my back to you. please. Reach around behind me. Unhook my bustier. We don't need it anymore. I want you to see me. I want to feel your hands on my flesh. I want you to devour my breasts. Bite me, lick me, suck at me. Take my nipples into your mouth and roll them around on your tongue. Feel my hips grind into you as you take me...
But let's not move so fast. Lay me back into the pillows. Stretch me out in front of you. Take me. Push my arms over my head. Let me surrender to your touch. I'm here for you. I want to be with you. That's it, slide your hands up my arms, push them up. Weave your fingers with mine, let me feel your weight on me. Your kisses are so passionate. I can feel your desire. Can you feel mine? Let me wrap my legs around you and draw you closer. Your body feels so good against mine. I need you.
Oh yes, slide back down my body. Let me feel your tongue on my nipples again. Let me feel your hands on my hips. I open my thighs for you. Your tongue flicks over my belly button. I know what you want. I feel your hot breath through my panties. The black lace is already moist from me. You have me so aroused. Nuzzle your face between my thighs. Breathe me in. Know how much I desire you. Rub me through the fabric. Feel me through the lace. Make my hips move to your touch. Make me moan for you, make me writhe under you. Make me want to cum for you. Yes. Tuck your fingers into my panties. Pull them down...slowly. Do you like what you see? Does it make you want me?
Oh yes, slowly drag my panties all the way down. Can you see how wet I am for you? Move your hands over the cool leather of my boots. Feel how good it feels against your skin. No, don't take them off. I want them on. I want to wear them. I want you to be able to feel them against your skin as you fuck me.
I think it's your turn now. Strip for me. Take your clothes off for me while I watch. Reveal yourself to me. I want to be able to feel your hot skin against me. Oh yes, that's it. Remove everything. Just let it fall to the floor. I see you looking at me. I see your eyes wandering over me, down between my thighs. You see my fingers there, rubbing myself as you strip. Masturbating for you. I know you want your fingers there instead.
Come back to me then, slide between my thighs. Let me feel your hot breath over me. Let me feel your hot tongue against my wet sex. Let me feel you swirl your tongue over my clit as I give myself to you. Feel my fingers in your hair, gently holding your head to me. Feel my hips rise to meet your mouth. Yes. Push your tongue inside me, devour me. Do you hear my moans? Taste my arousal on your lips, your tongue. Swallow me as you lick over my hard little clit. Feel my body respond as you do these things to me...
Feel me part my thighs further. That's it, bring me closer. Feel me writhing under you. My skin is so hot. My face is beginning to flush with the arousal of you. Don't stop. Bring me there. Yes. Push your fingers inside me. Not just one, I need two. Please. Push them deep inside me. Stroke me. Slide them in and out of my aching cunt. Fuck me with them. Push forward, call to me, find my spot. god yes. Right there. Rub me there. Feel my fingers tighten their grip in your hair.
But I need you to cum too. Reach down with your hand. Masturbate for me. Touch yourself how you like. You know how. Masturbate and cum with me. I need to hear your arousal building. I need to hear you tell me you're going to cum. I need to hear you moan with pleasure. I want to feel you gasp into me. I want to hear your cry my name and ask me to cum with you...
I feel your arm moving as you masturbate with me. Every touch, every feeling has made me go insane. Feel my trembling around you. Feel my clit swelling for you. Feel my warm, wet juices spilling over your hand. I hear you moan. I feel you moan, the vibrations running through my body. My fingers pull your face to me. Fuck me faster with your fingers, fuck me deeper. Push a third finger inside me. Fill me. Feel my hips grind against your face. God. You're going to make me cum. Now. God. I'm cumming, now. Feel me convulsing on you. Feel the tremors run through my body. Taste my wetness. Lap at me, drink me. Keep me there, keep me on the edge. Help me ride it out. Wave after wave of pleasure because of you. Don't stop.
Cry out for me as you cum. Don't hold back. Cum for me. Use your fingers, let them be mine. I want to feel you cum for me. I want to hear you say my name. I want to watch your body as it overtakes you. I want to see the passion and lust on your face when you let go. I need you to cum for me...